three zone slide tube furnace with 3″IDx79″ L quartz tube and flanges and a maximum working temperature up to 1200°C. One pair of sliding rail is installed on bottom of furnace to allow sliding the furnace from one side to another to achieve max. heating and cooling rates up to 100°C/min. For fastest heating, the furnace may be pre-heated to a desired temperature and then be slided to the sample's position. As for fastest cooling, the furnace can be slided to another side after sample heating is completed. Moreover, the heating and cooling rates may reach 15°C/s under vacuum or inert gases. three zone slide tube furnace provides an alternative for rapid thermal processing at the lowest cost.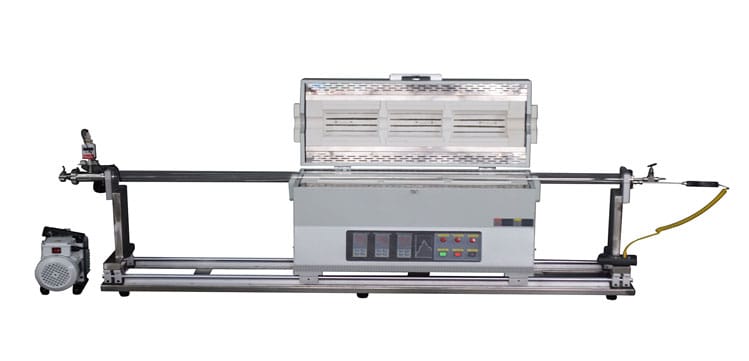 1200C sliding tube furnace SPECIFICATIONS:
Furnace Structure

Double layer steel structure with dual air cooling fans.
One pair of sliding rails are installed on bottom of furnace, which allows furnace to be manually moved from side to side.
Three heating zones with total  24″ length ( 8″L for each zone )
Vacuum flanges and a digital vacuum gauge are installed  for immediate use.
Slding rail length is about 1200mm, the furnace can slide 600 mm distance.
One slide stopping clamp is included for holding the position of the furnace.

Power

7.0KW

Voltage

AC 208-240V Single Phase, 50/60 Hz

Max. Temperature

1200°C (<1 hour)

Continuous Temperature

1100°C

Heating Zone Length

Three zones: 610mm (24″) in total
Z1 – Z2 – Z3:152.4mm (6″) + 304.8mm (12″) + 152.4mm (6″)

Constant Temperature Zone

300 mm (+/-1°C @ 400-1200°C)

Heating Elements

Fe-Cr-Al Alloy doped by Mo

Processing Tube Size

High purity fused quartz tube

Size:  OD:  80 x ID 75 x Length 2000  ( mm)

Two foam ceramic blocks are included which must be placed inside tube to avoid heat radiation damaging O-ring

 

Temperature Controller

Three temperature controller with 30 programmable segments for precise control of heating rate, cooling rate and dwell time.
Built-in over temperature alarm and protection allows for operation without attendant.
Three  K type thermal couples are included.
Optional:  

The furnace may be operated by PC by installing control module. at extra cost. 
If you order the PC control module together with the furnace, we will install and test it before shipping. We recommend you to order a computer (laptop) from us to avoid software installation problems

Temperature Accuracy

+/ – 1°C

Vacuum Flanges

Stainless steel vacuum flanges are installed on both ends of tube with heavy duty support. 

Left flange: hinged type flange for easy operation with KF-25 pump connector, digital vacuum gauge and needle valve.
Right flange: one needle valve and 1/4″ thermocouple feed-through. An 18″ length x 1/4″ dia. K type thermocouple (included) connected to an Omega temperature calibrator (included) will be inserted through this flange to monitor the heating and cooling rates of the sample's position during furnace sliding.

Click pictures below to see details:

Vacuum Level 

Limited by pump ( pump is not included, click on pictures to order )

10E-5 torr can be reached by molecular pump
10E-2 torr by mechanical pump.

Sliding Rails / Table

 

Double sliding rail made by Cr plated steel
Sliding length: 1200 mm
One slide stopping clamp is included for holding the position of the furnace.

Dimensions

2500 L, × 510 H ×750W,  mm

Net Weight

~ 250 Kg

Shipping Dimension

90″ x 40″ x 45″ (inch)

Shipping Weight

600 lbs

Warning

Fast sample cooling can be achieved by sliding the heating chamber away. Please wear protective gears such as heat resistant suit & gloves if you intend to do so. DO NOT TOUCH THE TUBE SURFACE WHEN IT IS HOT!