Hydrogen Atmosphere Furnace is a box furnace designed for material synthesis under hydrogen up to 1200 ºC. The furnace consists of five heated sides with better uniform temperature zone, and Kathal Fe-Cr-Al alloy heating elements with a heating chamber of 16″x 16″x16″, as well as a vacuum-sealed steel case with water cooling jacket and automatic H2 burning system. It is an ideal tool for preparing new materials which require a reduced atmosphere, such as phosphorous and Ti alloy, and also heat treating materials under all kind of gas: inert gas and oxygen or non-flammable mixing gas.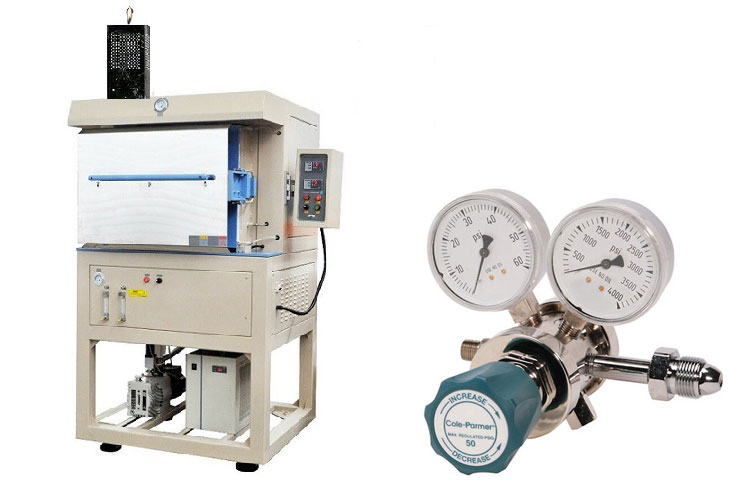 Hydrogen Atmosphere Furnace SPECIFICATIONS:
Furnace structure
• Double-layer stainless steel structure for maximum vacuum and safety, which can ensure a positive pressure up to 0.06MP and vacuum up to -0.09Mpa
• Water cooling front door and air cooling shell
• Built-in pressure gauge, vacuum valves, and two gas float meters
• Built-in H2 burning control system — if the controller detects no flame in the burner, the gas delivery valve will be shut down automatically
• 5 sides heating to promote the most uniform temperature distribution inside the chamber.
Inside Chamber Size
• Five heated sides Heating, i.e. left, right, bottom, back, and front, to achieve better temperature uniformity than three sides heating.
• Energy-saving 1500 grade fibrous alumina insulation
• High purity and reflective Al2O3 coating for max energy saving.
• Kanthal 1350°C grade Fe-Cr-Al resistance heating wire
• Heated chamber: 400x 400x 400 mm (~ 16″x16″ x16″), 64 Liter
• Maximum Sample Loading: 35 kg
Working Temperature & Constant temperature zone:
• Heating Element: 1300oC Grade Kanthal Ni-Cr-Al resistance wire
• Maximum Working Temperature 1200°C
• Temperature Accuracy: +/- 1°C
• Constant temperature zone:
o +/- 1°C within center 250 mm cubic zone
o +/- 5°C within center 300 mm cubic zone
• Heating Rate:
o <= 10 °C / min recommended
o 20 °C/ min Max.
Power
10 KW, 208 – 240V three phase, 50/60Hz
• Three phase, AC 380V – 460V available upon request.
• Note: Power cable included, but without a plug. Please install a plug by your own
Temperature Controller
• FA-YD518P-AG temperature controller is included.
• Proportional–integral–derivative control (PID control) and auto-tune function
• 30 segments programmed with ramping, cooling and dwelling steps
• Built-in over-temperature alarm and thermocouple failure alarm
• +/- 1 ºC temperature control accuracy
• Default DB9 PC communication port
• MET Certified
Temperature controller (optional)
MTS02-Y Temperature control software kit (for YD518P series controllers) + 15″ laptop package is available at the options bar. Click for the detail information about the MTS02-Y software kit.
• You may upgrade the temperature controller to the Eurotherm 3504 Temperature Controller which is fully compatible with LabVIEW. This package includes a Eurotherm 3504 programmer, a communication cable (RS485 – USB) and a software CD. Click the pic below to view the full spec of Eurotherm 3504 temperature controller.
Gas Flow Control and Vacuum Valve
• Two large flow meters (N2: 0~3.5L/min, H2: 0~3.5L/min) are installed in the front panel of the furnace.
• One for purging Inert gas prior to introducing H2 gas
• One for controlling H2 gas flow
• One heavy-duty vacuum pump ( CE certified ) built-in bottom furnace. You may choose a UL certified pump at extra cost ( Pls click picture left to see specs)
H2 Gas Burning Control System
• An ignition device already installed to incinerate flowing gas and detect burner temperature to ensure H2 burner is in working condition. If H2 does not burn properly, the controller will shut down the H2 gas delivery valve immediately.
• Warning: You must install a certified Hydrogen detector in operation facility to alarm the hydrogen leaking accident. If you can not find in a local store, please click link left to order the hydrogen detector from us at extra cost.
Water Cooling
A 16L/min recirculating water chiller is installed the bottom furnace for cooling furnace sealing flange. ( CE certified only )
Dimensions & Weight
H2050mm X W 1080mm x 1200 L
• Net weight: 450 Kg
Hydrogen Atmosphere Furnace Warranty
• One year limited warranty with lifetime support. (Consumable parts such as sample plates and heating elements are not covered by the warranty, please order the replacement at related products below.)
• ATTENTION: Any damages caused by the use of corrosive and acidic gases are not under the coverage of MTI One Year Limited Warranty.
Attention: A free course of safety operation training at MTI field is required to purchase this furnace. A customer's side training is also available upon request at extra cost. If the users believe that they have sufficient experience and knowledge to handle the furnace in the dangerous or emergent situation, a liability release agreement must be signed at the purchase. MTI Corp. is not responsible for any damages caused by misuse without safety operation training. Any damages caused by the corrosive and acidic gases are not under the coverage of the MTI One Year Limited Warranty.
Compliance
• CE Certified
• The furnace is ready to pass NRTL or CSA certification at extra cost
Hydrogen Atmosphere Furnace Application Notes
• Please PAY EXTREME CAUTION. H2 gas is highly flammable and explosive. H2 ignites at a temperature of 400°C, an explosion could occur when the hydrogen content reaches 4.0%-74. 2% in the air, please strictly follow the rules below to for safety operation.
• Max pressure of this furnace is 7.5 P( 0.5 atm ). You must install a pressure regulator on your gas tank to avoid over-pressured. Click here to learn the installation of a gas regulator.
• Inert gas MUST be used to purge the furnace chamber to eliminate all the air before introducing the H2 gas.
• The pressure inside the chamber should ALWAYS be controlled at 0.01-0.02 Mpa above the standard atmospheric pressure during the entire heating process, otherwise, the oxygen in the air may backflow into the furnace chamber and cause the explosion. Pressure over 0.02Mpa or below -0.05Mpa (Relative Pressure) is strictly prohibited.
• ALWAYS place the furnace in a room with a hydrogen detector installed and Good ventilation. Exhausting Hydrogen gas in the room is forbidden.
• For preserving the longevity of the furnace components, we recommend the heating rate not to exceed 10 °C /min.
• This furnace also can be used and modified as a CVD furnace with various mixing gas. Please email your special requirement for us.