Inert Atmosphere Furnace is designed for material synthesis under controlled inert gas atmosphere up to 1600℃with better temperature uniformity.High-quality alumina fiber brick and high purity MoSi2 heating elements with 300*300*400mm, as well as vacuum sealed steel case with water cooling jacket and two gas float flow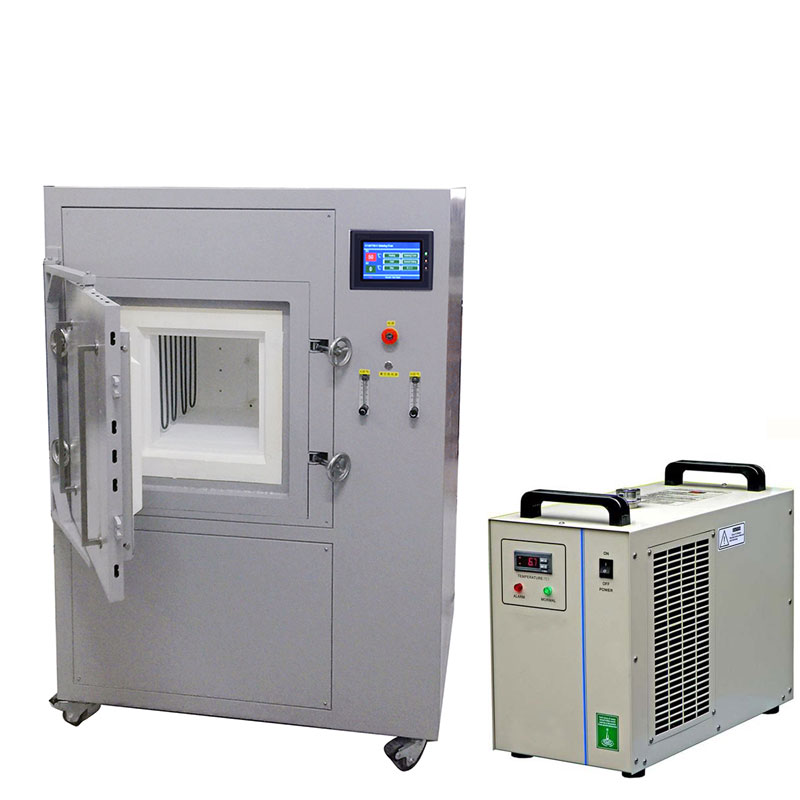 Inert atmosphere furnace technical parameters:
Model No.
CY-A1600-36L
Controller
7" LCD Touch Panel
Chamber Dimension
300*300*400mm
Maximum Temperature
1650℃
Rated Temperature
Rm~1600℃
Heating Rate
0-20℃ (suggestion 10℃/min)
Temperature Control
30 programmable and PID automatic control
Temperature uniform
± 5℃
Heating Element
MoSi2
Thermocouple
B type
Furnace Shell Structure
Double furnace shell and is equipped with

cooling fan

Water cooling capacity
50w/ ℃
Tank capacity
9L
Cooling water speed
15L/min
Atmosphere acceptable
nitrogen, argon and other inert gases. Insert

reduction gas is prohibited

Voltage
AC380V,50/60Hz
Quality Guarantee
One year
Application Notes:
Must use Rust Protection coolants to prevent rust and corrosion. The use of tap water is prohibited.
Please connect the chiller water outlet to the equipment water inlet, and the chiller water inlet to the equipment outlet. Otherwise, the water flow sensor on the equipment may fail to work due to wrong water flow direction If you need temperature below 20C, please set Parameter F9 to the desired temperature(10C-20C).
Part of the atmosphere furnace
The furnace is made of mullite poly light brick, and the silicon carbide slab is used up and down in the furnace. The temperature in the furnace is heated by the silicon carbide slab during the heating process (dark fire heating), and the temperature is more uniform. The shell is sealed. In order to improve the service life of the gasket, a circulating water jacket is arranged at the door of the furnace to lower the temperature of the seal. The inlet of the furnace is arranged at the bottom of the furnace, and after being preheated by the heating chamber, the furnace enters the furnace in multiple places, and the exhaust gas is discharged through the rear of the furnace top. Ensure that the atmosphere inside the furnace is uniform and reduce the temperature difference inside the furnace. A gas flow meter is installed on the gas path for normal use to control the flow of the atmosphere.