The CY-R1200X-100IC is a 4″ rotary CVD rotary tube furnace with 4"*440 heating zones. The furnace is especially good for preparing Li-Ion battery cathode and Anode materials with conductive coating, such as LiFePO3, LiMnNiO3, Si/C etc. This CVD rotary tube furnace has larger tube diameter (4″OD) combined with adjustable rotating angle, adjustable speed function.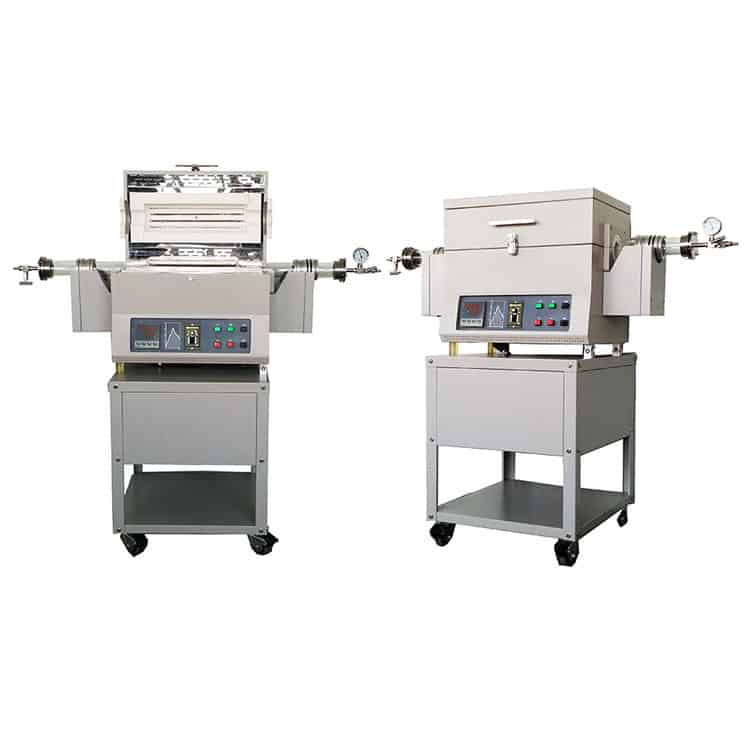 Rotary Tube Furnace Specifications:
Furnace Construction
1. Double shell casing with three cooling fans2. High purity Alumina fibrous insulation for max. energy efficiency3. DC Gear motor drives quartz tube with variable speed 0 – 10 RPM4. The furnace can be electrically tilted up to 30° .5. Split cover enable faster cooling and easy operation.
Heating Zone length
Single Zone: 440mm, in totalConstant temperature zone: 250 mm within +/-1℃
Processing tube
Fused quartz tubeDimension: 100 mm O.D. x 90 mm I.D. x 1000 mm L

 

Sealing Flange
one pair of 60mm SS sealing flange with needle valves and rotable gas connector is included for immediate use
Gas Fittings
Inlet Fitting: Elbow Push-in connector for 6mm O.D tube; Outlet Fitting:  Elbow Push-in connector for 12mm O.D tube,or as customized
Max. Working Temperature
1100°C for continuously1200°C Max for < 1 hours
Temperature Controllers
PID digital temperature controllers with 30 programmable segments
Temperature Uniformity
+/- 1°C in heating Zone
Thermocouple
Omega K type 3mm OD x 6″ L with high temperature tolerance (220°C) connector
Tube rotating Speed
0 – 10 RPM variable
Furnace tilt angle
0 – 30°
Chamber pressure
10-2 torr
 Power
2.5KW
 Voltage
208 – 240V single phase (30 A Breaker required)
 Warranty & Certificate
One year limited warranty (consumable parts such as processing tubes, o-rings and heating elements are not covered by the warranty, replacements are available at related products below.)
 Net Weight
85 kg
Disclaimer: The product introduction content (including product images, product descriptions, technical parameters, etc.) of this site is for reference only. As the update may not be timely, there will be some differences between the content and the actual situation. Please contact our sales staff to confirm. The information provided on this site does not constitute any offer or promise, and the company will improve and modify any information on the website from time to time without prior notice.