Soft metal sintering furnace is Cobalt-chromium alloy, commonly known as soft metal, is widely used in the medical field because of its excellent biocompatibility and non-toxicity. However, because the forming and sintering process of cobalt-chromium alloy is a major difficulty in processing, this greatly restricts the promotion of this alloy material in the denture industry and restricts the development of the industry. After two and a half years of technical research, our company successfully developed the first "cobalt-chromium alloy dental sintering furnace" that can be used in production. The metal sintering furnace provides precise high-temperature sintering process for cobalt-chromium alloy dentures. The intelligent temperature control system can store multiple sintering curves, the main control chip can intelligently control the gas inlet and change; all operations can be done on the touch screen, the operation is simple and intuitive. Our soft metal sintering furnace will be your best choice for the production of cobalt-chromium dentures.
Scope of application: soft metal (cobalt chrome) dental crown sintering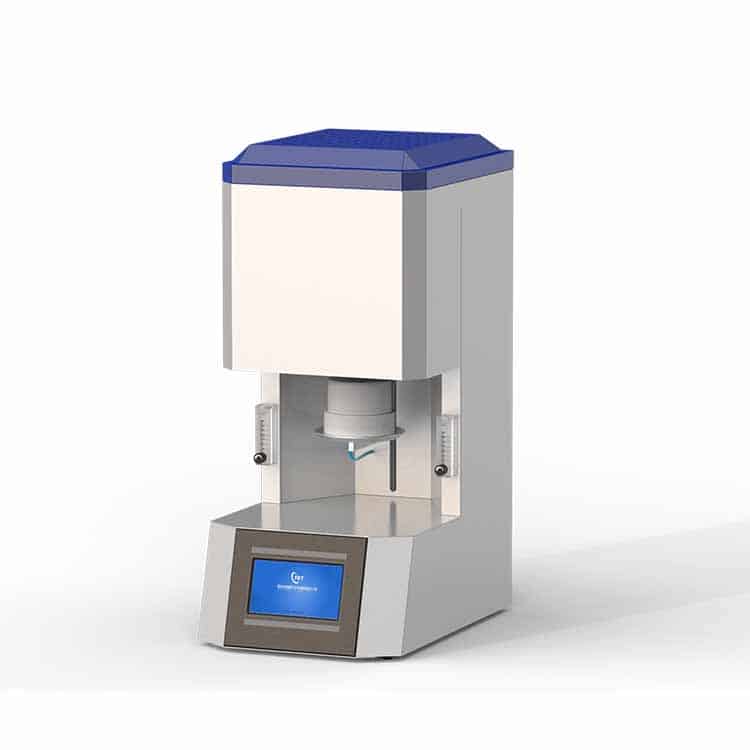 Soft metal sintering furnace Technical parameters:
| | |
| --- | --- |
| Model | CY-A1400-ZQ |
| Chamber structure | Lifting type, lift mechanism mute processing |
| Chamber size | φ100×150mm |
| Chamber volume | 1.2L |
| Chamber material | Imported alumina fiber |
| Operating mode | HD full color LCD touch screen |
| Working temperature | 0~1400℃ |
| Heating rate | ≤60℃/min |
| Heating zone | Single heating zone |
| Temperature accuracy | ±1℃ |
| Temperature control | 30 Steps programmable and PID automatic control |
| Temperature measuring element | S-type thermal couple |
| Gas | Pure air and inert gas, program automatically controls switching |
| Gas interface | 1/4″ ferrule connector (Ø8 pagoda-shape connector) |
| Power supply | AC: 220V 50/60Hz |
Over the years, the company has been committed to customer demand-oriented, and is committed to continuously improve product quality and improve technical services. With excellent technology and rich practice, it has developed a series of internationally advanced dental furnaces. The company's products and services are recognized and appreciated by many domestic and foreign customers. The products are exported to the United States, Germany, Italy, France, Russia, Canada, the United Kingdom, Australia, Turkey, India, Pakistan, Iran, South Africa, Brazil, Thailand, Singapore. More than 30 countries and regions.