vacuum vertical tube furnace is a 1500℃ Max. high temperature and high vacuum vertical tube furnace. The crucible that hangs inside tube can be rotated under vacuum for uniform sintering, and crucible can be lift manually to make sample change at easy. Water cooling flanges and recirculating water chiller are included for immediate use.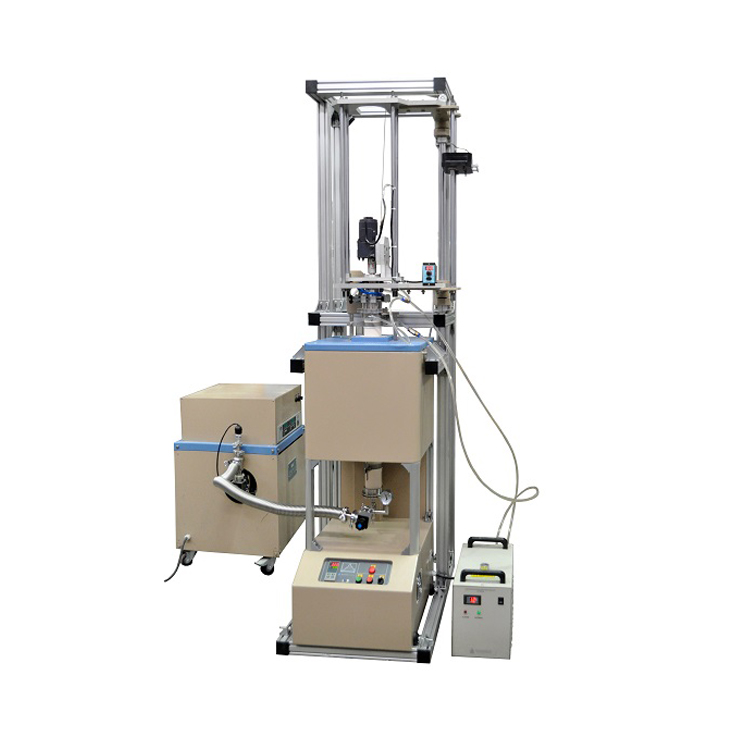 vacuum vertical tube furnace fields application:
It is mainly used for laboratory calcination and drying of battery positive and negative electrode materials, non-strong acid and alkaline powder materials, and granular materials. Users can choose to fire under vacuum or atmosphere protection according to the materials to be fired.
Technical parameters of vertical tube furnace:
Furnace   Structure

Double layer steel structure with air cooling to keep case temperature < 65℃
Vertical and splittable for easy installation.
Water cooling flange with recirculating water chiller
The crucible that hangs inside tube can be rotated under vacuum by DC motor under vacuum or controlled atmosphere.
The crucible can be lift manually to make sample change at easy (after open flange)

Power
  5.5 KW
Voltage
 AC 208-240V Single Phase, 50/60 Hz
Max. Temperature
 1500℃ < 30 minutes
Continuous Temperature
 1400℃ < continuous
Max. Heating Rate
  <= 10℃ /min
Heating Element
1500℃ grade SiC–12 pcs
Tube Size and Materials

Mullite tube made in the USA
OD:84 mm x ID 72:mm x Length: 1393 mm (included)

Heating Zone

Heating Zone length: 440mm
Constant Temperature: 150 mm (within +/- 1℃)

Temperature Controllers

30 programmable segments for precise control of heating rate, cooling rate and dwell time.
Built in PID Auto-Tune function with overheating & broken thermocouple broken protection.
Over temperature protection and alarm allows for operation without attendant(s).
+/- 1℃ temperature accuracy.
Five K-type thermocouples (one for each zone).
RS485 Communications Port.
PC controlled software and interface module are included

 Vacuum Seal Flange

One pair of 80 mm water cold stainless steel flanges with vacuum gauge and valves included
One 16 L/m recirculating water chiller is included

 Vacuum Level

10-3 torr by mechanical pump (you can order it separately)
10-5 by turbopump

 Heating Element
 Fe-Cr-Al Alloy doped by Mo
 Power Cable & Plug

10 feet length 10-3 AWG heavy duty UL approved power cable is included.
The plug is not included.

 Dimension
660L × 400 W × 1450 H (mm)
 Net Weight
 about 85Kg
 Warranty
One year limited warranty (Consumable parts such as heating elements, processing tubes and o-rings are not covered by the warranty)
Disclaimer: The product introduction content (including product images, product descriptions, technical parameters, etc.) of this site is for reference only. As the update may not be timely, there will be some differences between the content and the actual situation. Please contact our sales staff to confirm. The information provided on this site does not constitute any offer or promise, and the company will periodically improve and modify the website information, without prior notice, please understand.