The Vertical fluidized bed tube furnace is a fluidized bed vertical CVD system specially designed for powder experiments. The furnace is a high-purity corundum tube with a microporous ceramic plate embedded inside the furnace tube. The powder can be placed on the microporous ceramic plate, gas is introduced from the lower end of the furnace tube, and the sample powder was suspended in the heating zone through a microporous ceramic plate to carry out an experiment. The instrument adopts advanced PID intelligent temperature control, and the temperature control accuracy is ±1℃. The control interface is a 7-inch high-definition true color LCD touch screen, graphic display, visual operation interface, easy to operate and intuitive to use, can greatly improve your experimental efficiency.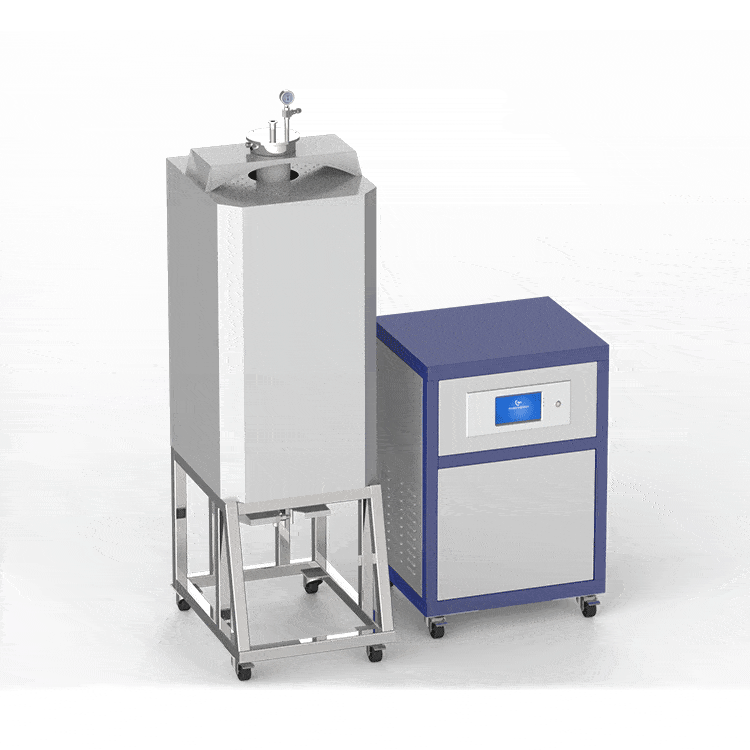 The tube furnace application field is powder experiment. Mainly used in college laboratories, industrial and mining enterprise laboratories, applied to high, medium and low temperature CVD processes, such as the development of carbon nanotubes, crystalline silicon substrate coating, metal material diffusion welding and heat treatment under vacuum or atmosphere.
Vertical fluidized bed tube furnace Technical parameters:
| | |
| --- | --- |
| Model | CY-T1700-100I-T-V |
| Furnace tube material | High purity alumina |
| Furnace tube diameter | 100mm |
| Furnace tube length | 1200mm |
| Furnace chamber length | 900mm |
| Heating zone length | 600mm |
| Constant temperature zone | 300mm |
| Operating temperature | ≤1700℃ |
| Temperature control accuracy | ±1℃ |
| Temperature control mode | 30 or 50 segment program temperature control |
| Display mode | LCD touch screen |
| Sealing method | 304 stainless steel vacuum flange |
| Flange interface | 1/4″ cutting sleeve joint (Ø8 pagoda joint); KF16 vacuum port |
| Vacuum | 4.4×10E-3Pa |
| Power supply | AC:220V 50/60Hz |
| Rated power | 10KW |
Optional accessories:
1. The gas comes out of the cylinder, depressurizes through the pressure reducing valve, passes through the PTFE tube to the inlet of the gas supply system, and then controls the gas flow through the proton flow meter, then passes through the gas mixing tank and then enters the furnace inlet, and the gas comes out of the gas outlet pipe. After passing through the three-way valve, one end is connected to the vacuum pump and one end is connected to the air outlet.
2. A pressure gauge is attached to the gas mixing tank, and the pressure gauge display disk and the proton flow meter are installed on the same panel.
3. Each gas line has a high pressure shut-off valve for safety.
4. The gas path adopts a high-precision gas float flowmeter, and the inside of the gas path adopts a PTFE tube, which has good corrosion resistance.
5. All joints are connected by ferrules, which have good air tightness and high pressure resistance.