This 1700c zirconia sintering furnace is mainly used for the sintering and crystallization of zirconia crowns in denture processing plants. The zirconia sintering furnace adopts the 1800℃ pure heating rod, which does not cause secondary pollution to the dental crown; the furnace adopts four-sided heating, which is more uniform than the traditional muffle furnace and crystallization furnace. The dental crown of the fired crown has better consistency. The double-layer liner structure is energy-saving and environmentally friendly. The intelligent temperature control can store dozens of heating curves, and the temperature control is precise and fast. The lifting furnace is convenient for loading raw materials and removing finished products. All operations can be completed on the touch screen, which greatly improves your production efficiency.
Product application: sintering of zirconia dental crown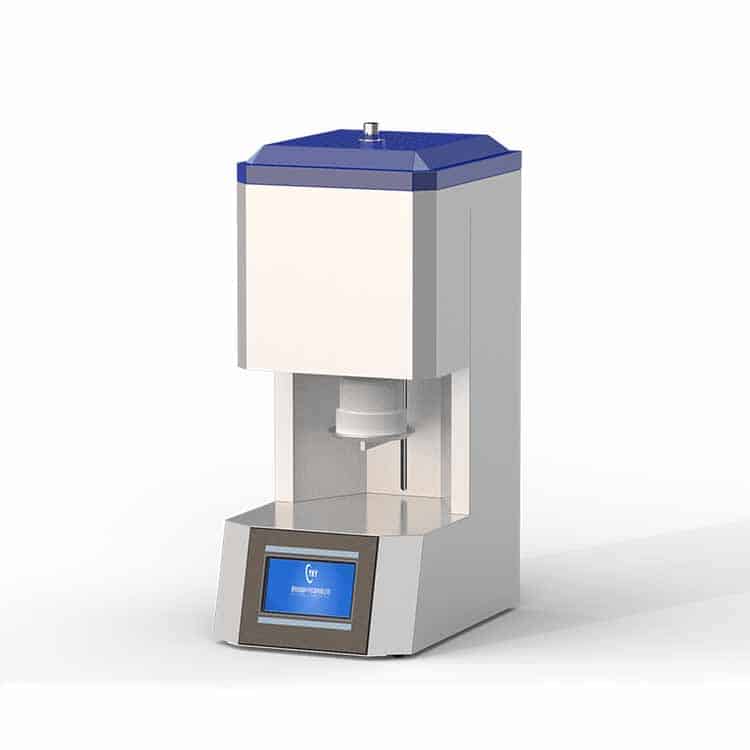 1700c zirconia sintering furnace Technical parameters:
| | |
| --- | --- |
| Model | CY-B1700-12IT |
| Chamber structure | Lifting type, lift mechanism mute processing |
| Chamber size | φ120x120mm |
| Chamber volume | 1.4L |
| Chamber material | Imported alumina fiber |
| Operating mode | HD full color LCD touch screen |
| Working temperature | 0~1650℃ |
| Heating rate | ≤30℃/min |
| Heating zone | Single heating zone |
| Temperature accuracy | ±1℃ |
| Temperature control | 50 Steps programmable and PID automatic control |
| Heating method | Four-sided heating |
| Temperature measuring element | B-type thermal couple |
| Power supply | AC: 220V 50/60Hz |
Our main products include high temperature furnace , such as 12001 14001 1700 degree
muffle furnace and tube furnace , dental furnace , vacuum furnace , gold melting furnace
and accessories. We have our own manufacturing base factory , however many other
companies' products are from OEM, which enable us a reliable manufacturing ability and
quality control system . We are capable of supplying both the equipment and technology
according to customers' different requirements and realities , and we have lots of
successful projects in many different countries and regions , like East Europe , South Asia ,
South America , Australia and New Zealand , and Africa . Profession .Quick Response , Hard
Work , and Sincerity" is the strength of our team , earning us a sound reputation among our
clients . We are open and willing to work with clients from different countries and regions
Over the years, the company has been committed to customer demand-oriented, and is committed to continuously improve product quality and improve technical services. With excellent technology and rich practice, it has developed a series of internationally advanced dental furnaces. The company's products and services are recognized and appreciated by many domestic and foreign customers. The products are exported to the United States, Germany, Italy, France, Russia, Canada, the United Kingdom, Australia, Turkey, India, Pakistan, Iran, South Africa, Brazil, Thailand, Singapore. More than 30 countries and regions.