Mini metal melting furnace is a special equipment for melting various metal samples under vacuum conditions. It is mainly used for the preparation of various metal samples and also for the sealing and welding of metal pipes.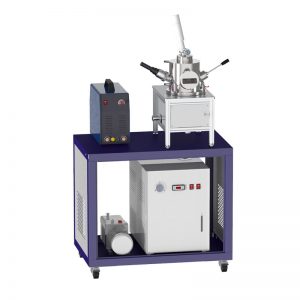 Specifications of Mini metal melting furnace:
Product model
CY-MSM25-4 (Non-consumable) Mini metal melting furnace
Main features
This equipment has the advantages of small size, stable performance, simple and convenient operation and so on.
Technical parameters
1. Arc melting chamber: φ200mm × 300mm. The surface of high-quality stainless steel is selected for electrochemical treatment.

2. Melting sample: weight ≤15g (calibrated with stainless steel) / per melting cavity, total 4 melting working stations.

3. Pipe sealing station: can weld the tantalum tube diameter φ5-φ14mm, length 50-100mm; station rotation automatically, speed can be adjusted 0-45rpm.

4. Vacuum degree: The standard mechanical pump is 6.0E-1Pa. If another molecular pump can reach 5.0E-3Pa (the vacuum gauge is not provided as standard)

5. Arc starting mode: high frequency arc starting.

6. Rated input power: 10.4 KVA

7. Cooling method: circulating water cooling

Product specifications
Net Weight: 50kg
Standard accessories
1 set Melting furnace host

1 Argon arc welder

1 Chiller

1 furnace frame

1 Vacuum pump

Optional accessories
Suction Casting Parts (Please contact our company when you need to buy)
Application considerations
1. Do not loosen the outer nut during any process, otherwise the electrode will   leak.

2. The whole machine should be placed in a dry and clean environment.

3. Regularly check whether the pipeline is smooth and clean the scale in time. The moving joint ball in the middle of the electrode rod needs to be frequently applied with some vacuum grease. This helps to reduce the wear of the seal ring, improves the flexibility of the rod, and can increase the sealing effect of the melting chamber.

4. The melting chamber should be kept clean, especially important parts such as front and rear observation windows, copper crucibles. The equipment needs to be at vacuum state to save when not in use.