15KW Vacuum Induction Heate  is a standard 1700ºC temperature-controlled induction heating/melting system with source feeding ante-chamber and melt stirring mechanism. The quartz antechamber with tipping-over tray design is used to transfer various source materials into the crucible without affecting the clean environment inside the main chamber. It is an ideal tool for preparing metal alloys with compositions of different melting points.
15KW Vacuum induction Heate configure:
The system includes an 15KW Vacuum induction furnace, temperature controller & TC, 150mm O.D quartz tube with ante-chamber, water cool flanges & valves, pressure gauges, graphite crucible & refractory assembly, 58L/m recirculating water chiller, 156L/min vacuum pump, and a mobile cart.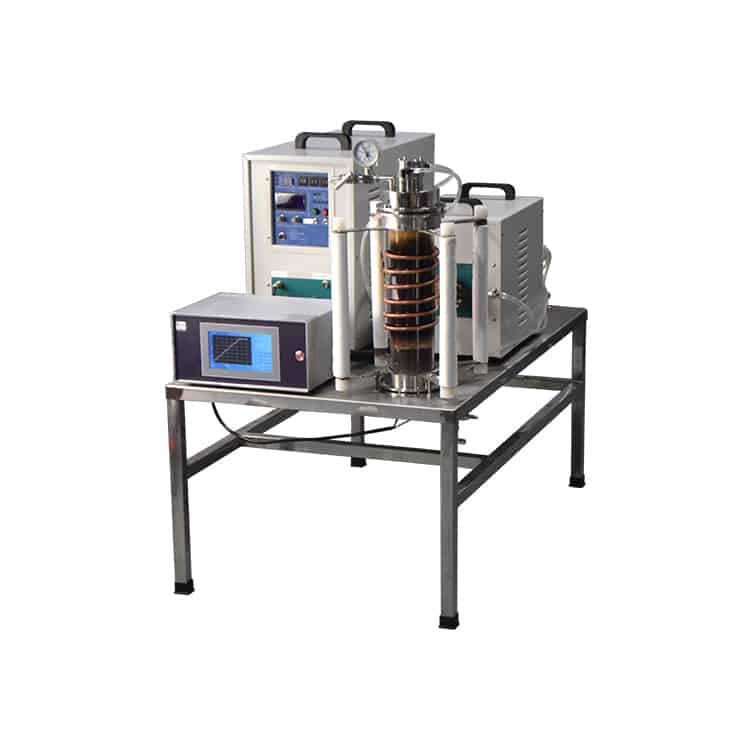 15KW Vacuum induction heater technical parameter:
Induction Heater

Working Voltage: 220V AC, 50/ 60Hz, Three Phase
Working Current: 5~52 Amps (a 60A breaker is required)
Max.Input Power: 15 KW 
Output Frequency: 30 – 80 kHz
Duty Cycle: 80%
Induction Coil: 170mm(OD) x 155mm(ID) x 110mm(H)
Protection: automatic water pressure, over temperature, and overpower protection

Material Feeding & Melt Stirring

A Φ50×120H mm quartz ante-chamber was installed on the top of the main chamber for sequentially adding source materials into the crucible without breaking the vacuum or atmosphere of the main chamber. Such a unique feature provides the opportunity for preparing metal alloys with compositions of different melting points.
The SS retractable stirring rod can reach and stir the melt inside the graphite crucible (stirring rod with alumina tip is available upon request, the additional cost will apply.)
A gate valve is employed for isolating/open the ante-chamber from/to the main chamber when material adding or melt stirring are needed.
Material feeding port and tipping over tray diameter: Φ30

Graphite Crucible, Refractory liners & Protective Shield
High Purity Graphite Crucible: 73 O.D × 63 I.D × 140 Hmm is included for induction heating and metal smelting. Max. Loading Capacity: 200ml

Refractory assembling: complete refractory assembling made of alumina, including bottom crucible support, crucible holder, and cover.

PVC protective shield is included

Sealing Flanges & Quartz Chamber

150mm(OD) x 142mm(ID) x 400mm(L) Quartz furnace tube is included
Top Flange: 6" Stainless steel water cooled flange with 1/4" thermocouple feedthrough, antechamber, needle valves, and a gate valve.
Bottom Flange: 6" Stainless steel flange with a pressure relief valve, a needle valve and KF-25 vacuum port.
KF25 right angle valve & clamps and 1000mm long SS bellows are included for connecting to vacuum pump.
The pressure relief valve is designed to release pressure at 0.02MPa for safety concerns.

Temp. Controller & Thermocouple

Precision digital temperature controller with automatic PID tuning.
30 segments programmable for controlling heating and cooling rate as well as dwell time.
Overheating & thermocouple failure protection.
+/- 3 ºC temperature accuracy.
Thermocouple: C type  ( 1/4″x16″ L )   ( please click here to order a spare as consumable )
Continuous Working Temp. Range: 800ºC~1700ºC
Max. Heating Rate:

10ºC/second (800ºC-1200ºC)
8ºC/second (1200ºC~1500ºC)
3ºC~6ºC/second (1500ºC~1700ºC)

Pressure Sensor

Anti-corrosive capacitance diaphragm gauge (Gas Independent), measurement range up to 3.8x10E-5 torr
One 24V,1A DC power adapter is included and ready to use. Input voltage for the adapter is 110~240V Single Phase.

Water Chiller

Temperature range: 5 – 30°C
Cooling Capacity 5004W
Water Flow Rate:   58 L/m,
Water pressure: 40PSI
Note: It is recommended to use specific coolant to get the best performance.

Vacuum Pump

One 156 L/min Double Stage Rotary Vane Vacuum Pump is included.
 Max. Power Consumption: 400W
If you choose high-speed turbo-pump, vacuum level can reach 10- 6 torr

Product Dimensions

Induction Heater: 51″(L) x 27.5″(W) x 70″(H) (1300mm x 700mm x 1800mm)
Water Chiller: 18″(L) x 18.7″(W) x 30″(H) (460mm x 475mm x 762mm)
Heavy Duty Mobile Cart provides 600mm(L) x 800mm(W) surface for placing Induction Heater & Quartz Tube with Flange

Warranty

One year limited warranty with lifetime support
Consumable parts such as processing tube, refractory liners, o-rings and heating coil are not covered by the warranty

Net Weight
Shipping Weight & Dimension

#1: 595 lbs, 51″x40″x50″
#2: 250 lbs, 48″x40″x35″