The magnetic suspension vacuum melting furnace CY-MSMF-40 is suitable for the study of ferromagnetic materials. It uses a 40KW high-frequency electric induction heater and a specially developed water-cooled copper crucible to heat and melt and at the same time cause the vacuum quartz tube to generate magnetic force to suspend the ferromagnetic alloy sample . Therefore, the machine can produce high-purity iron or magnetic alloys in a non-polluting environment.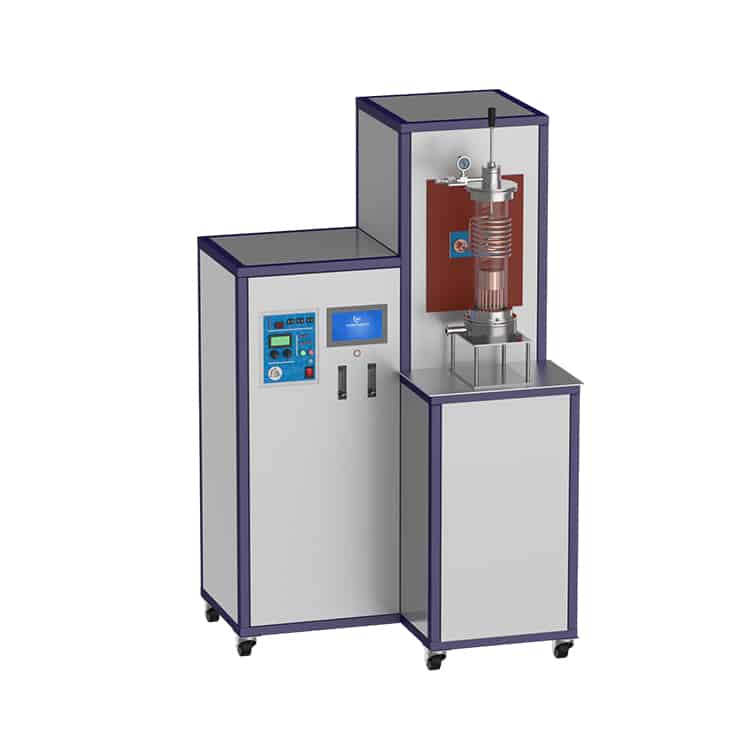 Magnetic suspension vacuum melting furnace technical parameters:
Product model
Magnetic suspension vacuum melting furnace CY-MSMF-40
Main features
1. Maximum vacuum pressure 10-2torr (mechanical pump), 10-4torr   (molecular pump).

2. The bottom flange can automatically drive up and down, making the sample loading easier.

Technical parameters
Induction heater

1. Power supply: 380V or 460V three-phase AC 5-20A

2. Output power: maximum 40KW

3. Output frequency: 50-200 KHz

4. Water flow rate:> 16 L / min

Copper crucible

1. Size: outer diameter 38mm, inner diameter 23mm, 12 equal parts

2. Capacity: 3mL

3. Maximum load: 20g ferrous metal or alloy

4. Water flow rate: 40L / min

5. Cooling: built-in water cooling device

Chiller

1. Power supply: 208-240V AC

2. Maximum input power: 2100W

3. Maximum water flow rate: 58L / min

4. Temperature control range: 5-35℃

Product specification
Size: 1200mm × 800mm × 1654mm; weight: 260kg
Standard accessories
1
Induction heater
1 set
2
Quartz tube (Φ50mm × 300mm)
1
3
Copper crucible
1
4
Vacuum flange
1 set
5
Chiller
1 set
the specific application is as follows:
1, a variety of hardware welding tools: diamond tools, abrasive, drilling tools, alloy saw blade, carbide lathe, milling cutter, reamer, planer,
2, all kinds of metal machinery parts welding: air conditioning compressor brass welding, metal bathroom products, refrigeration copper parts, lighting accessories, precision mold parts, metal handle, whisk, alloy steel and steel, steel and copper, copper and Copper and other similar metals or dissimilar metals silver welding, brazing;
3, the composite bottom welding is mainly used for round, square and other shaped flat stainless steel pot bottom and aluminum brazing three can also be used for other metal brazing weld.
4, electric kettle (electric coffee maker) heating plate welding is mainly used for stainless steel flat, aluminum and various shapes between the heating tube brazing.