vacuum melt spinning furnace is a lab-scale vacuum melt spinning system for preparing amorphous metallic ribbons. In this technique, metal ingots (<50g) are melted via induction heating method and then propelled by over-pressurizing the crucible.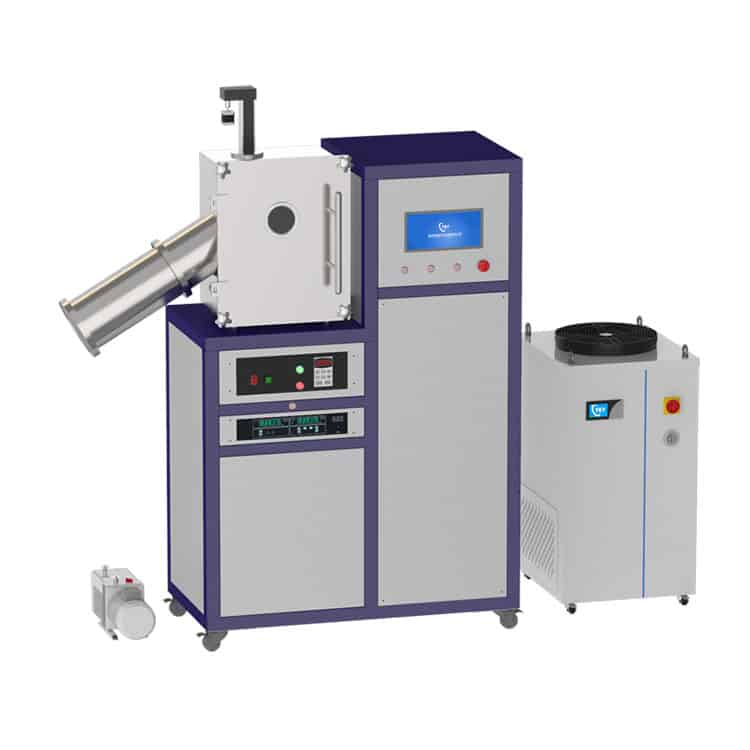 melt spinning furnace purpose:
Mainly used for the smelting of various rare earth permanent magnetic materials and the smelting of alloys.
vacuum melt spinning furnace technical parameters:
Features
The complete system consists of the stainless steel vacuum chamber, vacuum system, induction heating system, rack system and discharging tubular collector.

Copper roller linear speed: 5 ~ 60m / S

Melting metallic samples: 5g ~ 50g/Per batch

Vacuum casting device (not included in standard configuration)

Power supply
Voltage: AC380V, three-phase

Maximum power 15kw (60A air switch required)

Vacuum chamber & vacuum pump
Vacuum chamber size: Φ 500mm x 400mm L

Hinged cavity door with quartz observation window

Molecular pump system is installed in the equipment

Vacuum: 5 x10E-5 Torr (within 20 minutes)

Limiting vacuum 10e-7 Torr (to be baked)

Induction heater & temp controller
Heating power: 15kw; frequency range: 30 ~ 80kHz

Melting sample quantity: 10 – 50g (depending on the material)

Accurate temperature control system, B-type thermocouple, 30 temperature rise and fall procedures can be set

Temperature control accuracy: + / – 2℃

Crucibles
Quartz crucible or BN crucible can be used according to customers' requirements
Spinning wheel
Standard copper roller cooling without water

Linear speed of copper roller: 5 ~ 60m / S

Optional:

Optional water-cooled copper roller with a maximum sample handling capacity of 500g

Optional vacuum casting module

Optional accessories
Casting accessories (casting, spray casting) can be purchased according to requirements

The water cooling system can be customized for the casting copper mold according to the requirements

Dimension
2000×1100×1800mm(L×W×H)
Weight
~800Kg
Certificate
CE certification
What are the advantages of vacuum strip furnace:
Because the principle of induction heating of the vacuum spinning furnace is electromagnetic induction, the heat is generated by the workpiece itself. This heating method has a fast heating speed, minimal oxidation, high heating efficiency, good process repeatability, and the metal surface is only slightly decolorized and slightly polished The surface can be restored to mirror brightness, so as to effectively obtain constant and consistent material properties.